Swiss councillor barred from vote after nursing baby outside chamber
Comments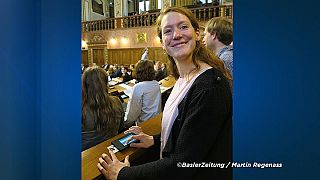 The decision to bar a council member from a vote after she left the room to breastfeed her baby has sparked conflict between politicians in the Swiss city of Basel.
Lea Steinle, 31, was participating in a debate in the regional Basel-Stadt parliament on Wednesday when she left to nurse her two-month-old baby — a situation she later described as an "emergency".
When she was ready to rejoin to vote in the Grand Council session, which concerned the destruction of a vital motorway in Basel, its president, Remo Gallacchi, blocked her from entering with the infant.
His decision sparked outrage in the assembly, prompting calls of "shame!" from Sibylle Benz of the Social Democratic Party (SP).
Fellow SP councillor Danielle Kaufmann said it was her democratic right to participate in the ballot.
"There is no way an elected politician cannot be allowed in the chamber because she has a baby that needs to breastfeed," the politician said.
But Gallacchi felt allowing her return could cross parliamentary boundaries. 
"It's basically just us here. But where do we draw the line? With one-month-olds? With two-month-olds. With or without prams?" he said,  as cited by local newspaper Basler Zeitung.
The Christian Democratic member eventually backed down and Steinle was allowed to return to the session.
In a statement, he later admitted the decision was "clumsy" and said a "pragmatic solution" to the issue would be worked out "by the time of the next major council meeting".
The Basel parliament said it was looking for a "pragmatic solution". 
 In an interview with Swiss newspaper 20 minutes, Steinle said the incident "shows how far we are in terms of equality and reconciliation of work and family life.
"People have chosen me, but I have been denied the right to vote in the lobby, which is discriminatory."
Basel's Green Alliance doubled-down on the criticism on Thursday, saying a substitution system was needed so mothers of newborn babies could nurse their children without missing important votes.