Long-lost Charles Dickens portrait back on show in London
Comments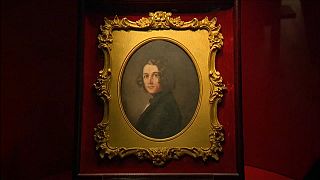 A long-lost miniature watercolour of Charles Dickens is back on display in London.
The portrait went missing from the Royal Academy of Arts in 1886 but was found last year in South Africa and is now on show at the at Pall Mall's Philip Mould gallery.
 The miniature watercolour and gouache portrait by Margaret Gillies, valued at 220,000 pounds ($280,000), was painted in 1843 as the young Dickens, in his early 30s, was writing "A Christmas Carol."
The painting shows the Victorian writer clean shaven, with long, wavy hair, looking over his left shoulder, a contrast to the more common image of an ageing Dickens, with long bushy beard and messy, balding hair.