Brexit pop-up shop offers Londoners 'worst deal ever'
Comments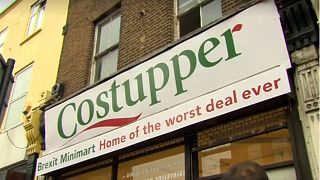 A spoof Brexit pop-up shop opened in London on Black Friday, offering customers "the worst deal ever", with discounts including "huge reductions on NHS staff" and "massive clearance on jobs".
The "Costupper" shop was created by the anti-Brexit People's Vote Campaign, which is calling for a public vote on the final deal between the UK and the European Union.
The group said the stunt was aimed at drawing attention to the issues that they believe will come from leaving the EU, including inflation and job losses.
The pop-up shop appeared ahead of an EU summit on Sunday, at which representatives of the remaining 27 member states are set to endorse the overall draft Brexit deal.