'The British have our soul:' Easter Island delegation requests British Museum return statue
Comments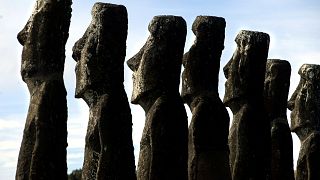 -
A delegation from Chile's Easter Island travelled to the British Museum in London to request the return of a seven-feet-tall moai sculpture.
The governor of the island, Tarita Alarcon Rapu, said, "We are just a body. You, the British people, have our soul."
She added her grandmother who passed away at the age of 90 years, never had the chance to see her ancestor.
The figure, known as Hoa Hakananai'a, was taken from the island in 1868 and given to Queen Victoria, who passed it on to the British Museum.
The delegation has offered to swap the Hoa Hakananai'a for another moai carved from stone by a contemporary local sculptor.
The British Museum told Reuters that it is always willing to consider loaning out objects from its collection "subject to the usual conditions."