Italy's budget crisis: how it escalated and what is next | Euronews explains
Comments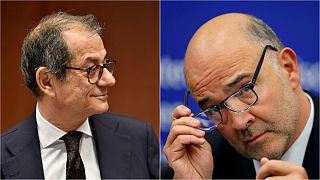 How did we get to this stage?
Greece has been grabbing all the headlines when it comes to spiralling debt in the European Union in recent years.
But Rome has been lurking in Athens' shadows.
Italy's government debt-to-GDP ratio has risen from 105.1% at the turn of the century to 133.1% this summer.
That is what Italy's new coalition government inherited when it was sworn into office around the same time.
What happened next?
The coalition that formed a government after elections in March consists of the far-right League party and the anti-establishment Five Star Movement.
The pledges that helped get them into office included introducing a universal basic income, slashing taxes and reducing the retirement age.
These promises were included in Rome's spending plans for 2019, which were published in early September.
The proposals meant Italy would run a budget deficit — the gap between public spending and money raised through taxes — of 2.4% for the next three years.
It was a clear sign Italy was turning its back on austerity.
It also marks a shift from the previous centre-left administration, which had targeted a deficit of 0.8% of GDP in 2019 and a balanced budget in 2020.
How did Brussels react?
The budget deficit of 2.4% proposed by Italy is within the 3% ceiling that is prescribed by Brussels.
Nevertheless, in an opinion published on October 23, the European Commission told Italy to come back with revised plans within three weeks.
It argued the budget deficit is higher than previously proposed and would risk the reduction of Italy's debt-to-GDP ratio.
It is essentially worried that any alleged profligacy from Italy could threaten other economies sharing the euro.
"Italy, like all other Member States, has the right to choose its budgetary priorities: to invest more in infrastructure, to roll out a universal income or to focus on the eradication of poverty," it wrote. "The role of the Commission is to assess whether Italy fulfils the fiscal commitments that it has itself taken before the other member states."
But, despite the warning, Italy vowed to stick to its spending plans. It believes its borrow-and-spend policy would boost economic growth, helping reduce the country's debt ratio, while reducing unemployment.
Then, on November 21, the European Commission announced that sanctions against Italy over its budget were now "warranted".
"The impact of this budget on growth is likely to be negative in our view. It does not contain significant measures to boost potential growth, possibly the opposite," Valdis Dombrovskis, the European Commission's vice president for the euro, told a news conference.
"With what the Italian government has put on the table, we see a risk of the country sleepwalking into instability."
What sanctions could we see?
Italy could be hit with a fine, but whatever happens it's unlikely to come about quickly.
Brussels says it wants to invoke what's called the excessive deficit procedure, a means of encouraging countries to get their budgetary houses in order.
First, the European Commission will have to get the EU finance ministers to agree with them on starting proceedings against Italy over the coming months.
It will then prepare a report on how Italy should cut its debt and a deadline — likely within six months — for Rome to act.
If Italy fails to comply with the recommendations then ministers could then give the green light for financial sanctions.
Read more on this subject