Italy budget: 'EC would be softer if Rome had mainstream government' | Raw Politics
Comments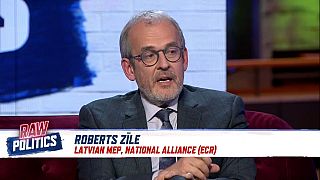 Brussels' reaction to Italy's budget would have been softer if it was dealing with a more mainstream government.
That was the claim of Latvian MEP Roberts Zile, reacting on Euronews' Raw Politics programme to the European Commission's (EC) threat of sanctions against Rome.
There is an ongoing row between Brussels and Italy's populist coalition government over its spending plans for 2019.
Rome is sticking to its draft budget and that has prompted the threat of financial penalties from the EC.
"We are doing what our citizens have asked," said Eleonora Evi, an MEP for Italy's anti-establishment Five Star Movement, which is in a ruling coalition with the far-right League party.
Watch the full discussion in the video player above.