House of Commons: MPs told off after playing football in UK parliament
Comments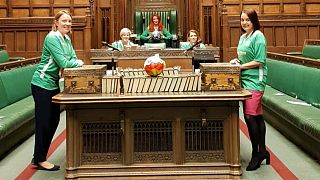 Copyright

Twitter/@HannahB4LiviMP
MPs who celebrated the creation of a women's parliamentary football team with a kickabout in the House of Commons have been shown the red card.
Scottish politician Hannah Bardell shared a video on Twitter of her juggling a ball in the British parliament. 
Her antics did not impress House of Commons Speaker John Bercow who said the "historic chamber should not be used for this type of activity".
"It has been brought to my attention that some football skills were displayed in the chamber yesterday evening," he said in a statement to parliament on Wednesday. 
"I am informed that the doorkeepers on duty told the members concerned that the chamber was not the place for this activity, however, those doorkeepers were advised that permission had been given.
"Let me assure the house that that permission certainly did not come from me."
The team, which also included MPs Alison McGovern, Tracey Crouch, Louise Haigh and Stephanie Peacock, said they had been due to play their first match on Tuesday.
But the game was cancelled because they had to be in parliament for a vote. They had the kickabout after parliamentary business.
Ex-sports minister Crouch, Haigh and Peacock have since delivered "gracious, indeed fulsome" letters of apology to Bercow, who assured them there were "no hard feelings".
"I consider the matter closed," he added.