Iran crush Yemen 5-0 in Asian Cup; other interesting clashes coming up
Comments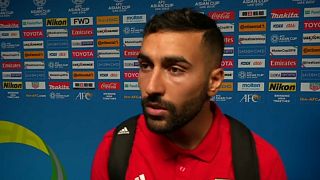 -
Iran, one of the favourites to win this year's football Asian Cup, started their campaign for the title on Monday with a thorough 5-0 thrashing of first-timer Yemen.
The result will be seen in non-sporting circles as deeply symbolic considering the role Iran has and is playing in the Yemen conflict.The Yemeni capital Sanaa is currently controlled by a militia group known as the Houthis, who are backed by Iran.
While it's true that sport and politics are best left apart, some of the fixtures in this year's Asian Cup do generate interest.
Syria play the Kingdom of Jordan on Thursday 10th January. Various sources estimate there are more than 1 million Syrian refugees in Jordan.
Border rivals Iran and Iraq play on Wednesday 16th January.
Lebanon and Saudi Arabia, who not long ago were embroiled in a rift over the resignation of Lebanese PM Saad Hariri, will come together on the football pitch on Saturday 12th January.
It's a nation against itself on Tuesday 15th January when Jordan play Palestine. A very high percentage of the population of the Hashemite Kingdom are of Palestinian origin.
Bahrain have already played the UAE and drawn 1-1. A surprising result considering the UAE are 34 places above their opponents in the FIFA rankings. But there appeared to be no gulf in class between them on the day.
And today, two authoritarian regimes kick off against each other as North Korea take on the Saudis tonight (Tuesday).
Iran's domination at the Mohammed bin Zayed Stadium in Abu Dhabi started just 12 minutes after the kick off, with two other goals scored in quick succession in the 23rd and 25th minutes. The second half saw the team crush the opposing side further with two more goals.
Midfielder Saman Ghoddos, who scored the team's fifth goal, described the win as a "confidence boost."
"The first game is always hard, but we showed that we are a strong team. Now we have an important game against Vietnam and we have to train and be better for everyday," he added.
Goalkeeper Alireza Beiranvand said the team approach every game "like a final."
"We hope to beat Vietnam in the same way we defeated Yemen. We hope that, come the end of this group stage, we can finish top of the standings," he added.
For Yemen, which has been wrecked by a violent civil war for nearly four years, the game against Iran was the team's first ever foray into the regional competition which takes place every four years.
Iran, meanwhile, has clinched the title three times in the past, putting on par with rival regional power Saudi Arabia but behind Japan whose team has raised the cup four times.
The AFC Asian Cup is being held in the United Arab Emirates until February 1.
Iran, Japan and South Korea are the favourites.