Clashes break out in Netherlands over 'Black Pete' Christmas character | Raw Politics
Comments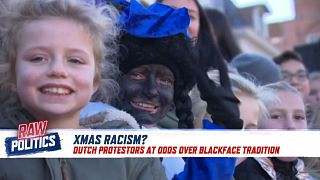 Dutch pre-Christmas festivities descended into violent scuffles and arrests last weekend — the controversy centres on a character called "Black Pete".
It came days after a court rejected an attempt by anti-racism groups to ban Black Pete from state television.
The Dutch and Belgian tradition involves white people putting on black face paint and frizzy wigs.
While its opponents say the practice is racist, a majority of Dutch people see it as harmless fun.
Watch today's expert panel discuss this in the player above.