Brexit, Khashoggi murder and Carlos Ghosn: Four European stories to know about today
Comments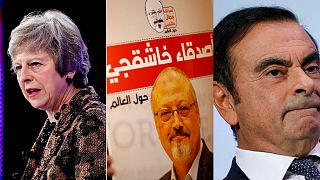 1. Brexit turbulence
Embattled PM Theresa May continued her PR blitz to gather support for the draft Brexit deal on Monday with a speech at the CBI business lobby conference.
The British leader hoped to appeal to businesses with her vision for a post-Brexit immigration system that would seek "to attract the brightest and the best from around the world."
Meanwhile, reports suggested that 42 of her ruling Conservative Party MPs had written letters of no confidence to the 1922 Committee. Under party rules, a vote of no confidence is triggered when 15% of the party's MPs write to demand such a vote take place. If the reports are true, only six letters are now needed to call a leadership challenge.
Coming to her defence were her Northern Ireland Minister Karen Bradley — who urged MPs to put "national interest first" to avoid a "very chaotic exit" — and Michel Barnier, the EU's chief Brexit negotiator, who told reporters the deal is "fair and balanced."
2. French Yellow Vests protests continue
Energy giant Total said access to three fuel depots in France has been blocked by protesters on Monday.
It comes after around 250,000 people protested in France on Saturday against rising fuel taxes by blocking roads across the country.
Although the rallies were mostly peaceful, some clashes with police were reported and one protester was killed.
The Yellow Vests movement continued on Sunday but was less well attended.
3. Nissan to fire Carlos Ghosn
Japanese carmaker Nissan announced on Monday that it has been investigating its chairman, Carlos Ghosn, for financial misconduct.
The investigation, launched after a whistleblower report, found that over many years Ghosn and Representative Director Greg Kelly "have been reporting compensation amounts in the Tokyo Stock Exchange securities report that were less than the actual amount, in order to reduce the disclosed amount of Carlos Ghosn's compensation," Nissan said in a statement.
Japanese media reported that Ghosn, who is also chief executive of French car brand Renault, has been arrested in Tokyo and that he is being held for questioning.
4. Germany slaps travel bans on 18 Saudi citizens
German Foreign Minister Heiko Maas announced on Monday that the country will issue travel bans against 18 Saudi citizens over the murder of Saudi journalist Jamal Khashoggi.
Khashoggi, a Saudi dissident who last worked as a columnist for The Washington Post, was killed in the Saudi Consulate in Istanbul on October 2.
Maas told reporters that the German decision to impose entry bans on 18 Saudi citizens "linked to the crime" was reached after the country "coordinated closely with France & the UK."
The name of the 18 Saudi citizens concerned have not been released.
The announcement comes days after the US intelligence agency, CIA, said the murder had been ordered by Saudi Arabia's Crown Prince and de facto ruler Mohammad bin Salman.
As it happened on Monday, November 19
This is how we covered key developments this morning: