Theresa May says UK will be in full control of immigration after Brexit
Comments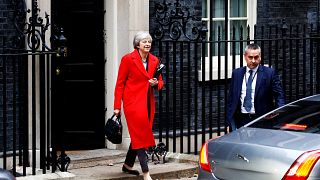 -
British Prime Minister Theresa May stepped up her effort to get people behind her Brexit deal with her address at the CBI business lobby conference in London.
May reiterated that the withdrawal agreement set out last week, which has been strongly criticised by MPs, is a good deal for Britain.
One of the areas she discussed was immigration - which was a key area of concern for voters during the Brexit referendum.
"Immigration will continue to make a positive contribution to our national life, but the difference will be this, once we have left the EU we will be fully in control of who comes here," she said.
"It will no longer be the case that EU nationals regardless of the skills or experience they have to offer can jump the queue ahead of engineers from Sydney or software developers from Delhi.
"Instead of a system based on where someone is from, we will have a system that is based around the talents and skills a person has to offer," she added.
She said she wants a system everyone can have confidence in, one that works for business and one that attracts talent from around the world - and one to command the confidence of the public by putting them in control of who comes to the the UK.
"I look forward to working with you to achieve it," she said.
Talking about the economy, she confirmed a transition period had been agreed to avoid a cliff edge for businesses.
"To give the certainty you need to invest," she said.
On goods, May said the outline future framework gives a comprehensive free trade agreement with the EU.
"Zero tariffs, no fees, charges or restrictions across all goods sectors, with an ambitious customs arrangement which respects all sides legal orders," she said.
May added it is what businesses need and vowed it is what the deal will deliver.
May has had a difficult few days since she unveiled her draft divorce deal with the European Union, with several ministers within her government leaving - and some seeking to oust her by submitting no confidence letters.
On Sunday, she vowed to fight on and warned that toppling her only risked delaying Britain's EU exit.
The EU is due to hold a summit to discuss the deal on 25 November.