Brexit on the brink: May defends draft deal | Raw Politics
Comments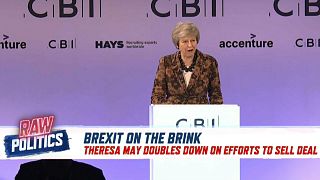 British Prime Minister Theresa May had her work cut out as she tried to defend the draft Brexit deal, negotiated a future one and tried to save her own skin.
Yet, May did not appear to be backing down — speaking to business leaders in London Monday she made it clear she would deliver her Brexit deal.
Doubling down on her efforts to sell the deal, she said: "It was never going to be easy or straightforward and the final stage was always going to be the toughest, but we have in view a deal that will work for the UK."
Watch today's expert panel discuss this in the player above.