Environmentalists occupy five bridges in central London
Comments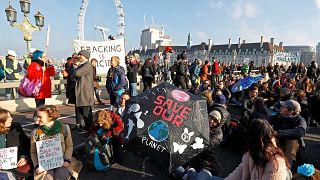 Environmental protesters have occupied five bridges in central London and called for the British government to take more action against climate change.
One of the rally's organisers described the protest as an act of mass civil disobedience.
"This is the start of an international rebellion protesting the lack of action on the ecological crisis,"Gail Bradbrook said.
She is a member of the Extinction Rebellion pressure group which on its website calls on the government to "enact legally binding policy measures to reduce carbon emissions to net zero by 2025 and to reduce consumption levels."
Protesters also rallied on Southwark, Blackfriars, Waterloo, and Lambeth bridges - key arteries of London's road system.
The group claimed that over 50 protesters were arrested by the police.
Britain has a target to cut its greenhouse gas emissions by 80 percent compared with 1990 levels by 2050 and has asked its climate change experts to advise on whether it should set a date to meet a net zero emissions target.