Theresa May no confidence vote 'likely' and Assange indicted: Five stories to know about today
Comments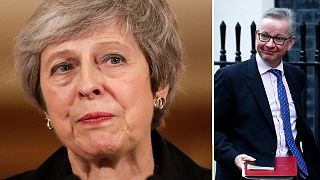 1. May's leadership on the brink after Brexit draft divorce agreement reached
The minimum 48 letters needed to launch a no confidence vote against May's leadership have been submitted, according to reports in British media.  
It comes after the Democratic Unionist Party (DUP), who have been propping up Prime Minister Theresa May since her lukewarm election result last June, said they would review their arrangement if her draft Brexit deal passes through parliament.
The Northern Irish party are opposed to the Irish border backstop proposal in the text.
Environment Secretary Michael Gove, who backs May's draft agreement, has also rejected a government offer to become Brexit secretary but will not resign, the BBC reported. 
When asked if he supported May by reporters this morning, however, he refused to comment.
2. May answers callers' questions about draft deal in radio interview
British Prime Minister Theresa May has sat down for an interview and answered callers' questions with commercial radio station LBC.
When asked by a man from Northern Ireland if she could give assurances that her draft Brexit deal won't be "scuppered" by her DUP allies, she said Friday: "I hope every single Member of Parliament will look at the need to deliver on the result of the referendum for the British people.
"I'm bringing back what I believe to be the best deal for Britain".
She added that avoiding a customs border between Northern Ireland and the rest of the UK was "absolutely crucial".
3. Europe reacts to Brexit divorce deal
Despite Thursday's announcement that a draft text of the UK's withdrawal from the EU had been agreed on by bureaucrats, France is still preparing in the event of a no-deal Brexit, its transport minister has revealed.
Customs controls, vet measures and procedures at ports are among issues being considered, Elisabeth Borne said.
It comes after European leaders lined up to praise the proposed Brexit agreement on Thursday.
European leaders will meet to finalise the Brexit deal at a summit on November 25.
4. US prosecutors indict Wikileaks Assange
Wikileaks' former editor Julian Assange has been indicted according to a court document "filed by mistake: in Virginia.
Assange has been living in the Ecuadorian embassy in London since 2012 under political asylum. 
US prosecutors seeking to charge the Australian journalist asked a judge to seal documents for an unrelated criminal case to "adequately protect the needs of law enforcement at this time because, due to the sophistication of the defendant, and the publicity surrounding the case, no other procedure is likely to keep confidential the fact that Assange has been charged," according to the filing.
It is not known what charges the 47-year-old faces.
A spokesman for the prosecutor's office that filed the request said it was "made in error".
5. Khashoggi to be honoured with funeral prayer in Turkey
Saudi journalist Jamal Khashoggi, who was murdered in the Saudi consulate in Istanbul last month, is to be honoured by friends and colleagues at a mosque in Turkey.
"We don't want to make this funeral a big demonstration, says friend Fatih Oke, who also heads Istanbul's Arab Media Association as executive director. "We want to make it a farewell to Jamal. That's all we want for his soul."
It comes after Saudi Arabia's public prosecutor said Thursday they would seek the death penalty against those responsible for his death.
Kristina Jovanovski reports for Euronews:
As it happened on Friday, November 16
This is how we covered key developments this morning: