David Hockney's iconic painting sells for record $90.3 million
Comments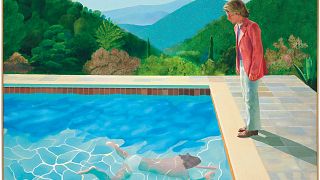 David Hockey's "Portrait of an artist (Pool with Two Figures)" became the world's most expensive painting by a living artist on Thursday, after it was sold in New York for a record $90.3 million (€79.5 million).
It was acquired after nine minutes of intense bidding during Christie's Post-War and Contemporary Art auction in New York on Thursday evening. The final hammer valued it at $80 million but buyer's premium pushed its price up to a record $90.3 million.
The previous record was held by Jeff Koons's "Baloon Dog (Orange)", which sold in 2013 for $58.4 million.
Hockney first worked on a similar painting in 1971 after being inspired by two pictures juxtaposed on his studio's floor.
"One was a figure swimming underwater and therefore quite distorted...the other was a boy gazing at something on the round," Hockey later recalled.
"The idea of painting two figures of different styles appealed so much that I began painting imediately."
The painting was destroyed a few months later but the idea stuck with the Bradford-born artist, who revisited the concept a year later, when he travelled to Saint-Tropez in the south of France with a friend to stage photographs.
Upon his return to London, Hockney worked 18 hours a day for two weeks to complete the new painting before it was scheduled to be sent to New York.
"I must admit I loved working on that picture," Hockney has said. "Working with such intensity; it was marvellous doing it, really thrilling,"
It was first sold for $18,000 and has since become Hockney's most iconic oeuvre.
Christie's has not released the name of the painting's new owner but some outlets, including Bloomberg, have reported that it was acquired by British billionnaire Joe Lewis. Forbes estimates the 81-year-old's fortune at $5 billion (€4.4 billion).
Some of the other paintings sold during the evening include Francis Bacon's "Study of Henriette Moraes Laughing", Mark Rothko's "Untitled (Rust, Blacks on Plum)" and paintings by Helen Frankenthaler. The sale reached a total of $357.6 million (€315.4 million).