Russia suspected of disrupting Finland's GPS signal during NATO war games
Comments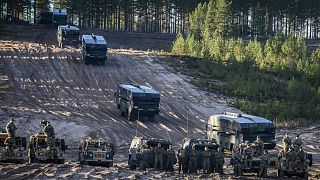 Finland's GPS signal was intentionally disrupted during the recent NATO war games in Scandinavia, and Russia may have been responsible, Finnish Prime Minister Juha Sipila has said.
The comments came after the country's air navigation services on Tuesday issued a warning for air traffic due to a large-scale GPS interruption.
Norway had posted a similar warning at the end of October, when the NATO exercises began.
"It is possible that Russia has been the disrupting party in this. Russia is known to possess such capabilities," Sipila told public broadcaster Yle on Sunday.
The Kremlin on Monday dismissed allegations that it was responsible.
Kremlin spokesman Dmitry Peskov told reporters that he had no information that Russia could have been responsible, adding that his country was frequently faced with groundless accusations.
While Finland is not a NATO member, it took part in the Trident Juncture war games as an ally.
Forces from 31 countries participated in the exercises, in an area stretching from the Baltic Sea to Iceland. The war games began on October 25 and ended last Wednesday.