On the ground with NATO in Norway
Comments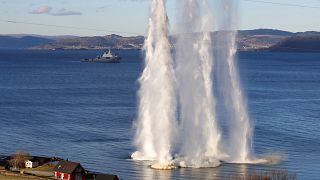 NATO is conducting huge military exercises in Norway. For the first time since the Cold War a US aircraft carrier is sailing above the Arctic Circle. In conjunction with Trident Juncture, the USS Harry S. Truman, is leading a US strike carrier group.
"Just look what United States is doing," remarks NATO supreme allied commander in Europe General Curtis Scaparrotti. "This carrier strike group is part of the exercise. But even in the last couple of years we increases the number of personnel we have in Europe. We've just announced another 1500 increase. The money that is called European defense initiative is investment here in Europe to ensure that we have ready troops that are working close to NATO allies for the defense of the Euro-Atlantic," Scaparrotti adds.
Russian military analyst Alexander Goltz says Moscow is watching NATO maneouvres with great concern.
"I think that Russian authorities did not count on such a response from NATO when they plotted all the actions in Crimea and Ukraine. Within 700 kilometers of the Russian territoriy NATO conducts large scale military exercises of the type of the previous Cold war. Here we see for the first time well prepared brigades, not just battalion tactical groups, but brigades, which are deployed for the the military operations. It's serious."
However, NATO troops don't appear to be completely ready to operate in harsh weather conditions.
"We've been issued with better gloves, better waterproof kit, footwear. But it's still probably not 100 per cent," says Corporal Littlewood UK Light dragoons continuing, "so I think the more we come to cold countries like this we'll adopt. When we went to places line Iraq and Afghanistan, we had desert combat. But this that we are wearing now is for both climates."