Jamal Khashoggi: Turkey gives recording of murder to UK, US, France and Germany
Comments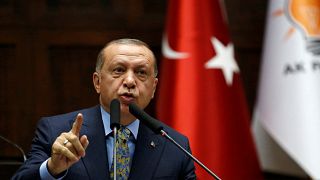 Turkey has shared a recording of Jamal Khashoggi's murder with Britain, France, Germany, the US and Saudi Arabia, according to President Tayyip Erdogan.
Erdogan was speaking on Saturday ahead of joining world leaders in Paris for commemorations marking a centenary since the end of WWI.
Khashoggi, a critic of authorities in Riyadh, disappeared after entering the Saudi consulate in Istanbul on October 2.
Saudi officials initially claimed Khashoggi had left the consulate; then said he died in an unplanned "rogue operation"; before the kingdom's public prosecutor Saud al-Mojeb later admitted he was killed in a premeditated attack.
His body has not been found.
Erdogan said the evidence suggests that Khashoggi was "slain in a vicious and violent murder".
He detailed Turkey's version of events: that a 15-man team arrived in Istanbul in the run-up to Khashoggi's murder and all left in the aftermath.
Erdogan has called on Saudi Arabia to reveal who ordered Khashoggi's killing.