Portugal to demolish buildings threatened by coastal erosion
Comments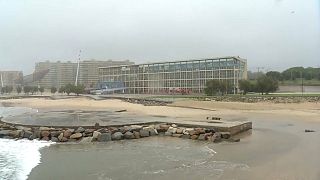 The population of Paramos beach along Portugal's northern coastline are in disbelief and outraged at the government's plan.
The houses where they have always lived are going to be demolished.
The Portuguese Environment Agency considers that their village, which has around 1,000 houses, is at severe risk from coastal erosion aggravated by climate change.
But the stark warning is not being heeded by many of the villagers.
"I'm not afraid. I'm just afraid of losing my house and my things, because at my age I won't be able to get anything else. I won't leave, even if they force me to," Benvinda Rochae, who lives in Paramos, told Euronews.
The mayor of the neaby town of Espinho, whose jurisdiction covers Paramos, agrees with the villagers - he thinks demolishing the houses cannot be the best solution.
"We believe that by investing in coastline defence, in new techniques of coastline defense, namely offshore techniques and keeping the population here we're enhancing the resilience of this population and stopping the sea from progressing more and more," Pinto Moreira told Euronews.
The envrionment agency's new coastal plan involves demolishing dozens of buildings and houses along a 122 kilometre strip of coastline between the city of Caminha and Espinho. Fourteen clusters of buildings along the stretch of coast have been targeted.
Among the buildings slated for demolition is the "Edifício Transparente" which was designed by the Catalan architect Solà-Morales in in Porto. It was built for the European Capital of Culture celebrations in 2001 and cost 7.5 million euros.
In the next ten years Portugal plans to spend almost 470 million euros to try to reduce the risks to it population from coastal erosion and its vulnerability to climate change.