Jordan hit by new deadly floods
Comments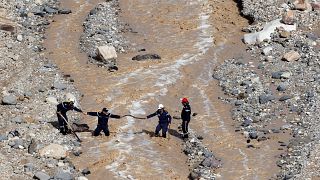 Heavy rains and flooding have killed at least eight people in Jordan. Thousands of tourists have also been evacuated from Petra.The visitors were taken to safe areas before flash floods inundated parts of the ancient city.
Authorities declared a state of emergency in the Red Sea port of Aqaba further south as downpours started on Friday (November 9) afternoon.
Divers have been searching for five people whose car was swept away by floods in the Madaba area, southwest of the capital Amman.
University and schools have been closed and mosques opened to shelter civilians in areas hit by the floods.
Two weeks ago, 21 people - mainly children - died after their bus was swept away during a school outing.
Politicians and members of the public criticised the emergency services for being unprepared and two ministers were forced to resign due to negligence.