More anti-government protests in Jordan
Comments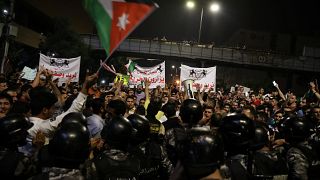 Another anti-government protest went on late into the night on Wednesday ( June 6) in the Jordanian capital..
It followed a day of strikes against the government's austerity programme and a planned tax reform.
There is also anger over a political and economic system widely seen as corrupt and elitist.
King Abdullah has already replaced his prime minister but is it enough?
Protester Saleh Shouha thinks not:
"The only thing that has happened, is the government has been dismissed, this is only 10 percent of our demands, we still have many more that have not been fulfilled, even if the new government comes it means nothing. We will stay in the streets until all our demands are met.."
Earlier professional associations with about half a million members had staged a day's strike..
They want the new tax reform which they say will raise taxes on the poor and middleclass to be scrapped.
 Jordan's King Abdullah who is normally seen as a unifying force in the country is relying on his appointment of reformer Omar Razzaz, as prime minister to diffuse the protests.