Updated: Ryanair 'settles €525,000 debt' after French authorities seize one of its planes
Comments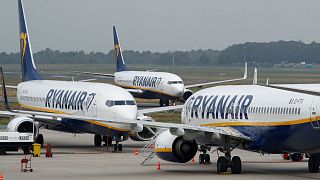 Ryanair has paid up after French authorities grounded one of its planes in a bid to recover €525,000 of public money given to the airline.
The seizure happened at Bordeaux-Merignac airport in south-west France on Thursday (November 8) evening.
Directorate General of Civil Aviation (DGAC) said the move to take the Boeing 737 was to recover money that regional authorities had given to Ryanair "concerning its activities" at Angouleme airport, situated in western, central France.
DGAC said the European Commission had judged the payment illegal in 2014.
Didier Villat, president of Syndicat Mixte Des Aeroports De Charente (Charente airport union), told AFP news agency on Friday afternoon that the move had worked and that Ryanair had now handed over the €525,000. 
DGAC said 149 London-bound passengers were affected by the seizure. They were put on another flight and arrived at their destination five hours late.
Ryanair did not immediately respond to Euronews' requests to comment on this story.