Watch: Cars fly at the China International Import Expo
Comments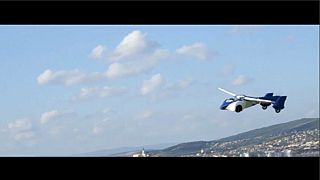 A car that transforms into plane mode in less than three minutes was seen at the China International Import Expo.
The electric-hybrid vehicle was developed by Slovakian company Aeromobile. The firm's CEO, Juraj Vaculik, said the car's design was based on considerations about current traffic situations and global regulations.
"What's very important is this vehicle is built and designed respecting the current legal environment and current infrastructure, current certificates on the global scale. So we believe very soon we will be able not just to produce and to sell, but also to operate the vehicle globally," Vaculik said.
The event in Shanghai also featured a range of products from US automakers and technology suppliers, European pharmaceutical and clothing brands, African tea exporters, and Japanese electronics manufacturers.
China is trying to develop trade ties in the wake of a tariff war with the US. The country's stock market has sunk 25% this year, becoming the world's worst performer.