Russian fighter jet flies 'dangerously close' to US military plane
Comments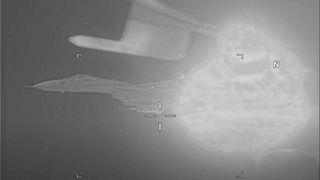 A Russian fighter jet flew dangerously close to a US Navy reconnaissance plane in international airspace over the Black Sea on Monday, according to the Pentagon.
Pentagon spokesman Eric Pahon said the Russian SU-27 made a high-speed pass directly in front of the US EP-3 and came "very, very close" to the American aircraft.
The Russian jet then activated its afterburners creating more turbulence, making a second pass by the US plane.
The US Navy pilots said the Russian jet came within five feet (1.5 metres) of their aircraft, according to defence department officials.
A statement by the US Navy said the crew of the EP-3 reported turbulence following the first interaction, and vibrations from the second.
The US EP-3 Aries was conducting routine operations when it took off from Souda Bay, Greece.
Pentagon spokesman Pahon said the encounter was unsafe and put the US pilots and crew at risk. He added that there was no communication between the two aircraft during the 25-minute ordeal.
A Twitter account for the Russian Embassy in the US posted a brief statement about the encounter on Monday, saying the fighter jet "followed all necessary safety procedures."