Over 70 schoolchildren kidnapped in Cameroon along with three supervisors
Comments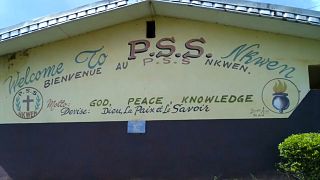 -
At least 78 children and three of their schoolminders have been abducted from a boarding school in the city of Bamenda, in Cameroon.
Local governor Adolphe Lele L'Afrique Tchoffo Deben placed the blame on local English separatist militias, though no one group has claimed responsibility at this point. Cameroon is a country still deeply divided by colonial influences of English and French— some of the English minority support the creation of a separate English state in the West called Ambazonia, and in the last year militias have formed in pursuit of that goal.
"I would like to send a strong message to the terrorists that, yes, they have provoked, they are raping, killing, looting, abducting but they are going to face a strong powerful reaction by the powers that be, not only here in Bamenda but elsewhere in the North region," said Governor Deben.
"We can't accept it to happen."
An unverified video has been circulating on social media that appears to show the boys identifying themselves and the school, as well as saying that they had been taken by the "Amba boys."
The unrest comes at a tenuous time for Cameroon. Today, President Paul Biya will be sworn in for a seventh term in office despite mass accusations of voter fraud during the election. Biya has repeatedly rebuffed demands for more autonomy from the English minority.