At least 17 migrants die trying to reach Spain from north Africa
Comments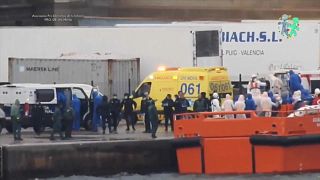 Rescue workers are searching for survivors after at least 17 migrants died trying to reach Spain from north Africa.
Two rafts were found in the western Mediterranean with 80 people onboard and 13 dead, according to the Spanish coastguard.
Another four bodies were found during a rescue in the Atlantic near the southern Spanish city of Cadiz, it added.
Spain has now become the main destination for undocumented migrants and refugees from Africa and the Middle East trying to reach Europe.
More than 47,000 people made the treacherous journey to Spain, often on flimsy dinghies and rafts, between January 1 and October 30, according to the United Nations' International Organization for Migration (IOM).
Almost 600 deaths have been recorded in that same period.
"What's concerning is that we've seen a consistent increase in the number of migrant deaths recorded in the Western Mediterranean each year since IOM began keeping track," said Frank Laczko, director of IOM's data analysis centre.
"These numbers, however, tell only a partial story of the tragedy unfolding in the Western Mediterranean. For each person lost at sea, families are left wondering if their loved one is dead or alive."
So far this year, there have been around 105,000 arrivals across the whole north coast of the Mediterranean, and more than 2,000 missing or dead, though that is down from the same period in 2017, when 148,000 arrived by sea and almost 3,000 perished.
"In September, one life was lost for every eight people who crossed. This was in large part due to substantially reduced search and rescue capacity," said the UN's refugee agency (UNHCR).
Legal and logistical restrictions have discouraged non-governmental organisations from conducting search and rescue operations in the central Mediterranean.
More than half the deaths reported so far this year have been crossings to Italy, whose new government has repeatedly refused to take in migrants setting off from Libya.