Spain overtakes Italy as most popular choice for EU-bound migrants
Comments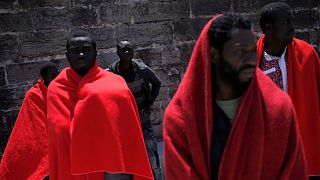 Spain has overtaken Italy as the most popular choice for migrants attempting to get to Europe by sea, new figures show.
There have been 18,016 migrants arriving in — or being picked up in the sea trying to get to — Spain since the start of this year, according to latest figures published by the International Organization for Migration (IOM).
A surge since the start of June has seen Spain overtake Italy, which had 17,827 sea arrivals since January 1.
The two countries were at the centre of the crisis around the Aquarius migrant boat, which was carrying 629 migrants rescued in the Mediterranean. It was turned away from Italy and Malta in June before docking in Valencia, Spain.
The trend of migrants turning to Spain and away from Italy comes after changes to government in both countries.
Populist parties emerged the winners from Italy's election in March after vowing to tackle illegal migration into the country.
This has seen a more hardline approach with some boats — like Aquarius — being refused permission to dock.
Spain's new socialist prime minister, Pedro Sanchez, replaced conservative predecessor Mariano Rajoy, who was ousted in a no-confidence vote in early June.
One of Sanchez's first moves was to take in Aquarius but he has signalled there should be a joint-EU response to the issue.
"There cannot be a unilateral response. With the Aquarius we made a gesture of solidarity but a humanitarian crisis is one thing and migration policy another. And that migration policy must have a joint, European response," Sanchez told El Pais.
Spain's surpassing of Italy comes after a surge in June and the first half of July that saw 9,866 migrants arrive by sea. IOM said up to July 15 there were, on average, 219 migrant arrivals by sea per day.