Former Nazi concentration camp guard, 94, goes on trial in juvenile court
Comments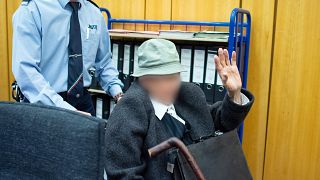 Copyright

Guido Kirchner/Pool via Reuters

-
A 94-year-old former Nazi concentration camp guard has gone on `trial in Germany today - in a juvenile court.
Charged with aiding and abetting the murder of several hundred prisoners in the Stutthof camp near the Polish city of Gdansk between June 1942 and September 1944, he faces 15 years in prison.
As he was under 21 at the time, the man will be tried in a German juvenile court, in what is likely to be one of the last trials of its kind.
The former SS guard has not been named by prosecutors, but German newspaper Die Welt has named him as Johann R, from the western town of Borken. He denies all accusations.
The case comes amidst continued criticism of Germany's belated handling of crimes committed during the Third Reich.
Prosecutions for "complicity in murder" have been brought against those who participated in the running of the camps only since 2011, before which only those directly implicated in the assassinations were prosecuted.