Seven suspected neo-Nazis arrested for allegedly plotting terror attack
Comments
By Carlo Angerer and Kalhan Rosenblatt and The Associated Press with NBC News World News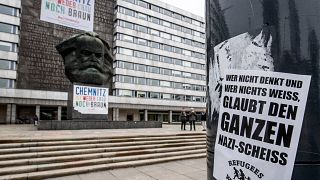 -
Seven men believed to be planning violent attacks on foreigners and political adversaries in Germany and suspected of plotting "an event" this week have been arrested, according to the country's Federal Prosecutor's Office.
Six men, between the ages of 20 and 30, who were suspected of being members of the right-wing terrorist group "Revolution Chemnitz," were arrested on Monday in the states of Saxony and Bavaria, officials said in a press release.
The six men were identified only as Sten E., 28, Martin H., 20, Marcel W., 30, Sven W., 27, Christopher W., 28, and Tom W., 30.
A seventh man, identified only as Christian K., had been arrested on Sept. 14, and is believed to be the group's leader, according to police.
"The accused belong to the hooligan, skinhead and neo-Nazi scene in the Chemnitz area and have understood themselves as leading figures in the right-wing extremist scene in Saxony," a statement from the Federal Prosecutor's Office said.
Five members of the group allegedly carried out a violent attack on foreign citizens in Chemnitz using bottles, weighted "sap" gloves, and an electric stun device, which officials believed was a "test run" for an "event" on October 3, 2018, a national holiday in Germany.
A spokeswoman for federal prosecutors, Frauke Koehler, said there was no evidence to date the group was motivated by the killing of a German man in Chemnitz in August. Anti-foreigner violence erupted in the city in the days following the killing. A 23-year-old Syrian is being held on suspicion of manslaughter and an Iraqi man is still being sought by police in that case.
A kosher restaurant was also attacked on the sidelines of one protest, with masked men throwing stones and bottles and yelling "Jewish pig, get out of Germany."
World
German Justice Minister Katarina Barley cited the arrest as further evidence of the threat posed by far-right extremists, after the conviction of members of the Freital Group and the National Socialist Underground earlier this year.
"If the allegations are further substantiated, then investigators will have succeeded in conducting an important blow against far-right terrorism," she told the Funke newspaper group.
The Federal Prosecutor's Office statement said the group had intended to overcome the "democratic constitutional state and intended to commit violent attacks and armed attacks on foreigners and political dissidents."
It added that the group had attempted to obtain semi-automatic weapons.