Last campaign push before US midterm elections
Comments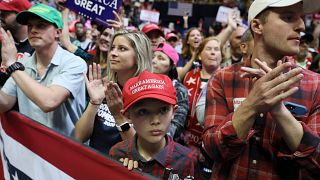 -
US President Donald Trump has polarized a nation— but for the first time since he was elected in 2016, the entire country will have a chance to put their vote where their mouth is. Even though the President's name isn't on the ballot, the midterm election results will be either validation of his policies, or a repudiation.
The balance of power in both houses of government is up for grabs, as well as dozens of races for governor.
Early indications show the voting is split— no suprise there. Both the Senate and the House of Representatives are close races, but polls suggest that Democrats have the edge in the race for control of the House, and Republicans are ahead in projections for the Senate. President Trump seemed to be setting himself up as blameless if Republicans do lose the House in a conversation with journalists yesterday.
"I think we're going to do well in the House," he said.
"But as you know my primary focus has been on the Senate. And I think we're doing really well in the Senate. If you look at early returns, the early returns are very positive. So, you know, with so many people in Congress with so many people in the House it's very hard to make those stops. But I've made a number, I think we're going to do well in the House. I think we're going to do really well in the Senate and there is something going on out there and I think you know what I mean."
The race has been particularly contentious, with President Trump running a campaign that started and ended with immigration. At rally after rally in key Senate states like Tennessee, he's made the choice about border security and characterised a group of migrants moving through Mexico towards the US as dangerous.
"The Democrats want to invite caravan after caravan of illegal aliens to flood into your communities," he told a Montana rally.
"Depleting our resources and overwhelming our nation... We don't want that."
Former President Barack Obama also hit the hustings to try and even the score, sounding very much like the 2008 version of himself.
"You get to vote in what might be the most important election of our lifetimes, maybe more important than 2008," he said to an audience in Illinois.
"Because America is at a crossroads right now. There is a contest of ideas going on right now, about who we are and what kind of country we are going to be. Healthcare for millions is on the ballot. A fair shake for working families is on the ballot. And most importantly the character of our nation is on the ballot."
The US goes to the polls early morning on Tuesday, and most close at 1900h or 2000h local time. Results will come in overnight in Europe and early results should paint a picture of how each party has fared by about 0900h CET.