New Caledonia votes against independence from France
Comments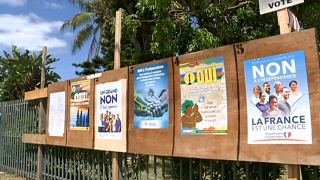 The South Pacific archipelago of New Caledonia voted against independence from France on Sunday in a long-awaited referendum that capped a 30-year long decolonisation process.
A "yes" vote would have seen Paris without a strong position in the Indo-Pacific region where China is expanding its presence and hit the pride of a former colonial power whose reach once spanned the Caribbean, sub-Saharan Africa, and the Pacific Ocean.
Based on early results and with a participation rate of nearly 80%, the "No" vote stood at 56.9% around 1400 CET, local TV station NC La 1ere said on its website.
"The New Caledonians have chosen to remain French...It is a vote of confidence in the French republic, its future, and its values," President Emmanuel Macron said in a speech on French television. 
It's the first vote on independence in French territory to be held since Djibouti in the Horn of Africa voted in favour of independence in 1977.
During a previous trip to the archipelago in May,  Macron acknowledged the "pains of colonisation" and saluted the "dignified" campaign for autonomy led by the indigenous Kanaks.
He and his administration have sought to strike a neutral tone on the vote.
Voters were asked the question "Do you want New Caledonia to gain full sovereignty and become independent?"
Despite lying over sixteen thousand kilometres away off the coast of eastern Australia, French nationalism is strong among the island population of 268,000.
However, the Kanak people are mainly pro-independent, and turn-out is expected to be high. Nevertheless, early indications are that the islands will stay with France, which subsidises New Caledonia's economy to the tune of 1.5 billion euros a year.