Hammond promises 'end to austerity' if UK negotiates Brexit deal with EU
Comments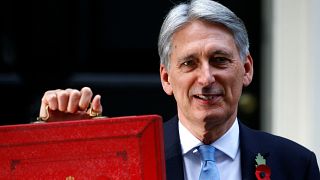 -
The UK's Chancellor Philip Hammond has announced that Britain's "era of austerity is finally coming to an end", provided the government secures a Brexit deal with the EU.
Unveiling the government's annual Budget in the House of Commons, Hammond said he expects a fall in the UK's expected borrowing needs between now and the mid-2020s.
He also announced a series of tax cuts for households, and increases to public spending - claiming the "hard work" of British people in the decade since the financial crisis is now "paying off".
He said the Budget is aimed at helping "the strivers, the grafters and the carers", promising them a "brighter future" after a decade that saw extensive cuts to the UK's health and social care services.
The Conservative government has been widely criticised over its Universal Credit benefit system, claim some recipients have been forced into homelessness, and dependency on foods banks.
Despite economic uncertainty, Hammond announced slightly improved borrowing figures, and increased growth forecasts for 2019 - up from 1.3% to 1.6%.
He said Britain is now at a "pivotal moment" in its Brexit negotiations, warning parliament that "the stakes could not be higher".
London and Brussels are currently at an impasse over the terms of Britain's departure from the EU, and Prime Minister Theresa May recently agreed that a transitional Brexit period could be extended, although only "for a matter of months".
Although generally striking an optimistic tone, Hammond did warn that in the event of a 'no-deal' Brexit, the Treasury would take "appropriate fiscal measures" to protect the British economy.
This could take the form of a revised Budget in the Spring.
The Office for Budget Responsibility (OBR), which analyses the government's Budgets and delivers economic forecasts, contains extensive warnings over the potential cost of Brexit.
It says: "Notwithstanding potential future revisions, the referendum vote to leave the EU appears to have weakened the economy."
"The fall in the pound has squeezed real household incomes and consumption, while providing only a modest boost to net trade.
"Meanwhile, uncertainty regarding the Brexit negotiations appears to have dampened business investment."
Responding to Hammond's speech, opposition Labour Party leader Jeremy Corbyn attacked the finance minister for delivering a "broken-promise Budget".
Corbyn added: "Whatever the Chancellor claims today, austerity is not over."
Other items in Hammond's Budget:
The National Living Wage will increase from £7.83 to £8.21 an hour from April 2019.

Private Finance Initiative will no longer be used to fund building schools, hospitals and roads.

Fuel duty will be frozen for the ninth consecutive year.

Stamp Duty will be abolished for first-time buyers of shared ownership homes up to £500,000 from November last year.

Business rates will be cut by a third for shops, pubs, restaurants and cafes in England with a value under £51,000.

Duty on beer, cider and spirits will be frozen. Wine duties will rise with RPI, and a higher will be brought in for 'white ciders'

A tax on plastic packaging that does not contain enough recycled materials.

An extra £1bn for the Ministry of Defence.

An additional £650m of funding for English local authorities to pay for rising care bills.

New mandatory business rates relief for all public lavatories made available for public use.