Central American migrants reject Mexico's offer of asylum
Comments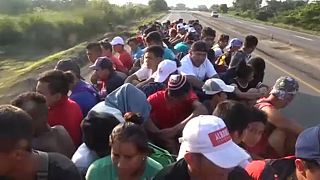 Several thousand Central American migrants say they won't be taking up Mexico's offer of asylum and a package of benefits.
They say they're determined to reach the United States and will continue their long trek to the border instead.
On Friday Mexico offered them temporary identification papers and jobs as well as schooling for their children if they register for asylum in the country.
Mexico has been under pressure from the United States to halt the advance of the several thousand strong Central American caravan which has now fragmented into smaller groups.
As he prepares to face crucial mid-term elections in less than two weeks U.S. President Donald Trump has made threats to close the U.S.-Mexico border and cut aid to Central America.
The Republicans are battling to keep control of Congress in the elections and immigration is high on the agenda.
U.S. officials have said that up to 1,000 troops may be sent to the U.S. southern border to prevent the migrants from crossing.
Making reference to the caravan, Mexican President Enrique Pena Nieto said that migrants wishing to obtain temporary identification documents, jobs or education for their children could do so by registering for asylum in southern Mexico.
"This plan is only for those who comply with Mexican laws, and it's a first step towards a permanent solution for those who are granted refugee status in Mexico," Pena Nieto said in a pre-recorded address broadcast on Friday afternoon.
To qualify for the scheme he called "Estas en Tu Casa" ('Make Yourself at Home') migrants had to be in the southern states of Chiapas and Oaxaca, Pena Nieto said.
Temporary work in the states would be extended so as also to benefit Mexicans, said Pena Nieto, who leaves office on Nov. 30.
Mexican officials have said those migrants who do not qualify for refugee status are liable to be deported.
Mexico's government has said that more than 1,700 people in the convoy have registered for asylum, while others have returned home. Estimates on the size of the group vary.
Alden Rivera, the Honduran ambassador to Mexico, told Mexican radio on Friday that the caravan could reach Mexico City by next Friday. He put an "official" headcount at 3,500, estimating that at least two-thirds of them were Hondurans.
The caravan set off in Honduras nearly two weeks ago, and has picked up other Central Americans en route.
Tens of thousands of Central Americans set off for the United States every year, looking to escape violence and poverty. Hondurans, Guatemalans and Salvadorans make up the bulk of illegal immigrants apprehended at the U.S. border.