You can leave your tag on: Meghan Markle makes rare fashion misstep
Comments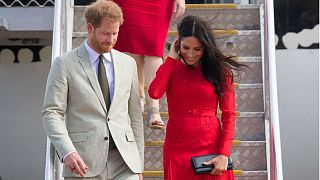 As the Duchess of Sussex on Thursday stepped out in Tonga all eyes were on her, which meant onlookers were quick to notice the tag on her eye-catching red dress.
Usually a stranger to fashion missteps, the label attached to the bottom of the garment was plain to see.
Despite failing to remove the price tag, it appears Markle was still championing moderately-priced clothing — the dress was £380.00 (€333) — a snip when you're on a royal budget.
The dress is a Self-Portrait creation, a brand founded in 2013 by Malaysian-born, Central Saint Martins graduate Han Chong and has fans including the likes of Reese Witherspoon, Maisie Williams and Gigi Hadid.
Meghan and her husband, Prince Harry landed in Tonga early on Thursday where they were greeted with a traditional welcome ceremony as they stepped off the plane at Fuaʻamotu International Airport outside the capital, Nukuʻalofa.
Some speculated that the red dress was a nod to Tonga's national flag, which is mainly red with a red cross on a white background in the top left corner.
The Duke and Dutchess of Sussex announced that they were expecting their first child at the beginning of their tour of Australia, Fiji, Tonga and New Zealand.