Does European Parliament really want to ban cheap food? | Euronews Answers
Comments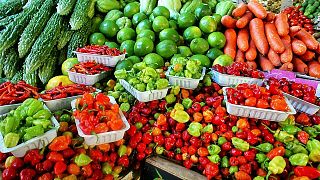 The European Commission adopted a proposal targeting unfair trading practices in business-to-business relationships in the food supply chain on April 12 2018, which could move on Thursday.
It argued the need for change came from the "wide-spread consensus" that unfair trading practices (UTPs) happen in the food supply chain and that smaller businesses are more vulnerable than larger ones due to weaker bargaining power.
However, some claim the file has been transformed by the Parliament, with amendments made by EPP MEP Albert Deß (CSU), and in trying to protect the market's smaller players, it will move towards banning cheap food among other possible ramifications.
What could be banned`?
The Commission says the proposed changes aim to protect smaller actors from trading practices that are imposed unilaterally, which include:
late payment by buyers for perishable food products (greater than 30 calendar days);
short notice cancellation of orders of perishable food products;
one-sided and retroactive changing of supply agreement terms;
a supplier having to pay for the disposal of food products on the buyer's premises that was not their fault;
Unless agreed in clear and unambiguous terms in the supply agreement the following trading practices would also be banned:
returning unsold food products to the supplier;

charging the supplier for stocking, displaying, listing, marketing or promoting their products.
What are the potential side effects?
Its critics say the proposal could see a ban on everyone from small suppliers to big multinationals selling cheap food, meaning an end to the free market concerning produce.
Also at risk are cooperatives, as the protection would cover small and medium-sized agricultural producers, including their producer organisations.
The possibility of retailers and suppliers agreeing stricter product standards than those outlined in EU law could also be banned.
What next?
Supporters of the report on unfair trading practices in business-to-business relationships in the food supply chain made their feelings known on social media using the hashtag #CutTheUnfair and some demonstrated outside the European Parliament in Strasbourg.
The action will move to the plenary on Thursday, which will see debate and vote on the contents of the file in November.