Trump says U.S. will pull out of nuclear treaty
Comments
By Saphora Smith and Associated Press and Elena Holodny and Reuters with NBC News World News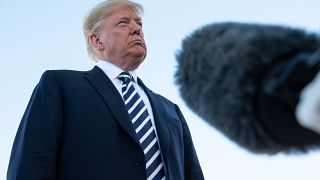 -
President Donald Trump said Saturday that he will withdraw from a landmark arms control agreement the United States signed with the Soviet Union, accusing Russia of violating the pact.
The Cold-War era treaty required both countries to eliminate short-range and intermediate-range nuclear and conventional missiles from their arsenals.
"Russia has not, unfortunately, honored the agreement, so we're going to terminate the agreement, and we're going to pull out," Trump told reporters after a rally in Nevada.
The agreement has constrained the U.S. from developing new weapons, but Trump said Saturday that the U.S. would begin developing them unless Russia and China agree not to possess or develop the weapons. China is not currently party to the pact.
"We'll have to develop those weapons, unless Russia comes to us, and China comes to us, and they all come to us and they say 'let's really get smart and let's none of us develop those weapons,'" he told reporters.
"If Russia's doing it, and if China's doing it, and we're adhering to the agreement, that's unacceptable," he added.
Trump didn't provide details about violations, but in 2017 White House national security officials said Russia had deployed a cruise missile in violation of the treaty. Earlier, the Obama administration accused the Russians of violating the pact by developing and testing a prohibited cruise missile.
Russia has repeatedly denied that it has violated the treaty and has accused the United States of not being in compliance.
Russian Deputy Foreign Minister Sergei Ryabkov hit back at Trump on Sunday, accusing Washington of blackmail and claiming U.S. withdrawal from the nuclear agreement would be "a very dangerous step."
"We condemn the ongoing attempts by blackmail to achieve concessions from Russia," Ryabkov told Russian state news agency TASS.
"Apparently, the inability and unwillingness to negotiate with us on a reasonable basis are pushing certain forces in Washington to bring the country's leadership to a decision on the formal withdrawal from the treaty," he said. "This would be a very dangerous step."
Meanwhile, National Security Adviser John Bolton was headed Saturday to Russia, Azerbaijan, Armenia and Georgia. His first stop is Moscow, where he'll meet with Russian leaders, including Foreign Minister Sergei Lavrov and Security Council Secretary Nikolai Patrushev.
His visit comes at a time when Moscow-Washington relations also remain frosty over the Ukrainian crisis, the war in Syria and allegations of Russian meddling in the 2016 presidential race and upcoming U.S. midterm elections.