Russia warns of retaliation as Trump says will exit nuclear arms pact
Comments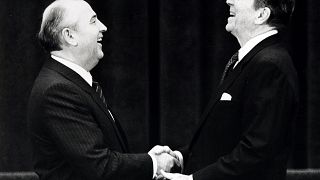 Russia has warned the US of retaliation if it withdraws from a Cold War-era nuclear weapons treaty.
On Saturday, US President Donald Trump said he planned to "terminate" the three-decade-old 1987 Intermediate-Range Nuclear Forces (INF) treaty.
The treaty required the elimination of short-range and intermediate-range nuclear and conventional missiles by both countries.
The treaty bans land-based missiles with a range of 500-5,500 km, targeting nuclear weapons based on the European continent at the time.
It was negotiated in 1987 by former US President Ronald Reagan and Soviet leader Mikhail Gorbachev.
On Sunday, Gorbachev said Trump's withdrawal from the treaty was a reversal of efforts to achieve nuclear disarmament. 
He told Russia's Interfax news agency: "Do they really not understand in Washington what this could lead to?"
While Russia's Deputy Foreign Minister Sergei Ryabkov said that a unilateral withdrawal by the United States would be "very dangerous" and lead to a "military-technical" retaliation.
TASS news agency quoted him as saying a withdrawal "would be a very dangerous step", and it was Washington and not Moscow that was failing to comply with the treaty.
The US believes Moscow is developing and has deployed a ground-launched system in breach of the INF treaty that could allow it to launch a nuclear strike on Europe at short notice.
However, Russia denies the accusations. 
A Kremlin spokesman said Russian President Vladimir Putin would seek answers about the planned withdrawal when he meets John Bolton, Trump's national security adviser, John Bolton, for talks in Moscow this week.
While Trump has said the US will develop its own weapons unless Russia and China, which is not part of the treaty, agree to a halt on development. 
How has Europe reacted?
Germany
German Foreign Minister Heiko Maas said that for 30 years the treaty had been a pillar of Europe's security architecture and said: "We now urge the United States to consider the possible consequences," of quitting the pact.
**UK **
British defence minister Gavin Williamson, in comments reported by the Financial Times, said London stood "resolute" behind Washington over the issue, and that the Kremlin was making a mockery of the agreement.