Five stories from around Europe to know about today
Comments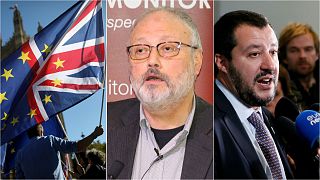 1. Brexit deadlock ahead of EU summit
EU leaders gather in Brussels today for a summit that was meant to see a deal agreed over the UK's exit from the bloc.
But instead the Irish border issue means deadlock remains and the mood music in Brussels is that progress is unlikely at the meeting.
European Council President Donald Tusk, who will have a one-to-one meeting with British PM Theresa May, says there are no grounds for optimism over a deal. He claimed fresh proposals were needed from London.
The sticking point is over how Brexit will affect the border between the Republic of Ireland, an EU state, and Northern Ireland, which is part of the United Kingdom.
2. Turkey 'waiting to search Saudi consul's residence'
Turkey is waiting for a joint agreement to search the Saudi consul's residence in Istanbul in connection with the disappearance of Saudi journalist Jamal Khashoggi.
Saudi Consul General Mohammad al-Otaibi left Istanbul on Tuesday, returning to Riyadh, a Turkish source told Reuters.
Khashoggi, a critic of Saudi policies, has not been seen since going into the Saudi consulate in Istanbul on October 2. Turkey believe he was killed there and his body disposed of. Saudi Arabia denies this.
Turkey has searched Saudi Arabia's consulate in Istanbul and is expected to publish details in a matter of days. President Recep Tayyip Erdoğan said on Tuesday that the probe was looking into the use toxic materials.
It comes as US Secretary of State Mike Pompeo was in Turkey on Wednesday to speak to Erdoğan about Khashoggi's disappearance.
3. Two-thirds would vote to stay in EU, claims poll
Two-thirds of people in the European Union want to remain in the bloc, a new poll commissioned by the European Parliament has revealed.
It comes five months before the UK is set to leave.
The data shows 66% of those asked would vote to stay if there was a referendum on membership of the Brussels club. Meanwhile 17% want to leave, with the same proportion not sure how they would vote.
People questioned in Luxembourg, Ireland, Sweden and Denmark were the most supportive of staying the EU.
The UK, perhaps unsurprisingly, Cyprus, Greece, Italy and the Czech Republic had the highest proportion of people saying they would vote to leave.
4. Archaeological discovery in Pompeii rewrites history of Vesuvius eruption
A charcoal inscription found in the ancient city of Pompeii has led archaeologists to believe that the eruption of Mount Vesuvius may have been later than originally thought.
The 79AD eruption of Mount Vesuvius, which devastated the surrounding Roman metropolises, has long been thought to have taken place on August 24 of that year. Historians widely accepted this date due to an eyewitness account about the eruption discussed in a letter from Pliny the Younger to a friend, Tacitus, several years after the event.
But the newly-discovered charcoal inscription disputes this. It reads "the 16th day before the calends of November," meaning October 17, almost two months after August 24.
Read the full story here.
5. Italy's Salvini slams France over 'dumping of migrants'
Italy's far-right Deputy Prime Minister Matteo Salvini (pictured, below) branded France an "international disgrace" for having allegedly driven two migrants across its border and dumping them in Italy.
Tensions between the neighbours have risen as Rome has accused Paris of hypocrisy by refusing to take in a fair share of the hundreds of thousands of migrants who have reached Italy by boat since 2014.
On Friday, witnesses reported seeing a French police van cross the mountain border at Claviere, near the Italian ski resort of Sestriere, and making two black men get out in a wooded area before driving back the short distance to France.
Italy demanded explanations from France and on Monday French media quoted the head of the Hautes-Alpes region that flanks Italy as acknowledging that its police had crossed the border, calling the incursion "an error".
Salvini, who serves as interior minister and is also head of the far-right League, dismissed the explanation and demanded to know the identities of the two men, who he said were migrants.