Which EU countries consume the most pesticides?
Comments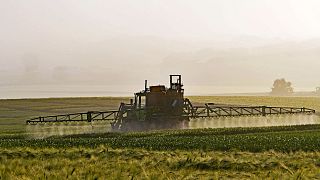 Spain, France, Italy, and Germany are by far the biggest consumers of pesticides in the European Union (EU).
The four countries, which cover almost half of the EU's agricultural market, accounted for 79% of pesticide sales in 2016, according to data released by statistics body Eurostat on Monday.
The finding raises concerns about the impact pesticide use could have on EU residents' health.
Spain is the bloc's largest consumer of the chemical, which is used to protect crops from insects and other organisms that could harm or kill them.
Fungicides and bactericides comprised the bulk of pesticide sales in Spain (38.9k tonnes), Italy (37k tonnes) and France (31.9k tonnes).
In Germany, insecticides and acaricides, which are poisonous to ticks and mites, were its biggest seller (15,463 tonnes).
Researchers have linked long term pesticide exposure to the development of cancer, neurological disorders and sterility.
Farmers, people living near plantations, indigenous communities, pregnant women, and children are particularly vulnerable to their ill effects.
"Excessive use of pesticides are very dangerous to human health, to the environment and it is misleading to claim they are vital to ensuring food security," two United Nations experts said following the release last year of a UN paper into the chemicals.
The report ruled that overuse of pesticides can also contaminate soil and water sources, lower the nutritional value of food and kill natural predators of pests.
Yet manufacturers and industry associations have argued that the chemicals are prone to misuse by farmers and that pesticides are needed to boost production on farms, ensure they run efficiently and remain sustainable.