Watch: May v Corbyn on the state of Brexit Negotiations
Comments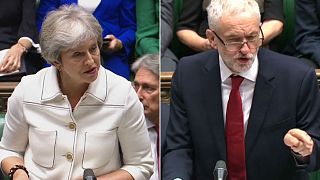 Days after insiders claimed a Brexit deal was close, British Prime Minister Theresa May and Labour leader Jeremy Corbyn were once again engaged in a tense debate about Brexit negotiations in the Commons.
Corbyn accused his Conservative counterpart of delivering a "nothing-has-changed moment from this shambles of a government", likening her statement on the state of talks to reliving "Groundhog Day".
Yet May assured MPs, amid jeers from the other side of the house, that the terms of the UK's exit from the European Union "are now clear".
She added: "A negotiated deal is the best outcome for the United Kingdom and the European Union" rather than "a no-deal outcome that no one wants".
Watch some of our highlights from the debate in the video player above.