Watch: Competitors have smashing time at World Conker Championships
Comments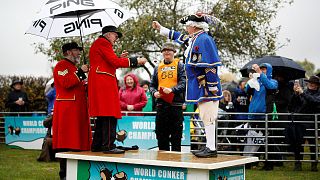 Competitors braved blustery weather to battle it out on Sunday at the annual World Conker Championships in Northamptonshire, England.
The annual event is based on the traditional British children's game in which competitors swing a conker, threaded on the end of a piece of string, at an opponent's conker with the aim of smashing it.
More than 200 people took part in the contest in the village of Southwick, with many sporting fancy dress costumes.
Karen Holloway, 32, beat men's champion Stuart Campbell to be declared the overall winner at the event.
The competition has been running since 1965, raising hundreds of thousands of pounds for charities for the visually impaired.