Rubio: America's 'moral credibility' at stake in response to missing journalist
Comments
By Ben Kamisar with NBC News Politics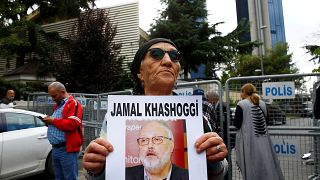 WASHINGTON — Sen. Marco Rubio warned Sunday that America's "moral credibility" is at risk if it fails in its response to suspected Saudi involvement in the disappearance and possible killing of a Washington Post columnist in Turkey.
Appearing on "Meet the Press" Sunday, the Florida Republican said that if Saudi involvement is proven, the response must be strong and swift to ensure America's moral standing.
"Our ability to call Putin a murderer — because he is; our ability to call Assad a murderer — because he is; our ability to confront Maduro in Venezuela or any of these other human rights atrocities like what we see in China, all of that is undermined and compromised if we somehow decide that because an ally who was important did that, we are not going to call it out," Rubio said, referring to Russian President Vladimir Putin, Syrian President Bashar al-Assad and Venezuelan President Nicolás Maduro.
Journalist Jamal Khashoggi, a vocal critic of the Saudi regime, has not been heard from since he entered the Saudi consulate in Turkey. Turkish authorities have said they have evidence that the Saudis killed Khashoggi inside that consulate. The Saudi government has denied and condemned the accusations.
"If this is proven to be true, there is going to be a response from Congress," Rubio said. "It's going to be nearly unanimous, it's going to be swift and it's going to go pretty far."
The international crisis could be a pivotal moment in the uneasy alliance between the U.S. and Saudi Arabia. The two countries have long disagreed on issues like human rights, but there's been an uneasy partnership both in the war against terrorism and on trade.
And there have been Western hopes in recent years that the rising influence of Crown Prince Mohammed bin Salman, the son of Saudi King Salman, could help modernize and moderate the country. But those hopes have hit a roadblock as bin Salman may be implicated in the disappearance.
John Brennan, the former CIA director who previously served as a CIA station chief in Saudi Arabia, said Sunday that it would be "inconceivable that such an operation would be run by the Saudis without the knowledge of the day-to-day decision-maker of Saudi Arabia, that's Crown Prince Mohammed bin Salman."
Brennan, a national security analyst for NBC News, went onto argue that bin Salman has been "emboldened" to be more aggressive by his relationship with Trump and Jared Kushner, the president's son-in-law and a top White House aide.
And he said that Trump's posture toward authoritarian dictators, "condemnations" of the press and "denials of reality" have "encouraged Mohammed bin Salman to go down this road."
But he added it's unclear whether the titular leader of the country, the 82-year-old King Salman, "has the mental capacity and political strength" to investigate Khashoggi's death and seek justice if his son or others are implicated.
In an excerpt of an interview with CBS's "60 Minutes" released Saturday, Trump said "there will be severe punishment" if evidence proves the Saudis killed Khashoggi. But also on Saturday, he raised concerns about reneging on arms deals between the two countries, arguing that "we'd be punishing ourselves if we did that."
Rubio agreed in part with Trump's analysis of the importance of the arms deals, arguing that the deals give America important "leverage over them" and that the Saudis would just turn to another powerful nation for arms if America closed its doors.
"There are advantages to arms sales that have nothing to do with money," Rubio added.