Elderly nun among nearly dozen killed in heavy flooding in France
Comments
By Minyvonne Burke with NBC News World News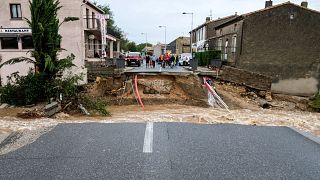 -
At least 10 people are dead, including an elderly nun, after floodwaters tore through southwest France on Monday in what is said to be one of the worst floods to hit the area in over a century.
Officials initially said 13 people had died overnight after three months' worth of rain poured down on the southwestern Aude region in just a few hours leaving bridges destroyed, cars overturned and residents trapped in their homes.
French Prime Minister Edouard Philippe lowered the death toll Monday after visiting the region saying 10 people have died, according to local media outlets.
Among those killed was an 88-year-old nun who was swept away from a convent in the village of Villardonnel. Mayor Luciano Stella told the Evening Standard that the nun had locked herself in a room because she thought she would be safe there "but the water burst in."
Her body was found under trees outside the nunnery, according to Agence France-Presse.
"The water crashed through the building's main door and on through the door to her room, the lowest in the convent. It carried away her furniture which ended up on the veranda," Sister Irene, the mother superior, told AFP.
Four other people were reportedly killed in nearby Villegailhenc, where the water reached the first-floor windows of homes. Five were seriously injured, according to a press release from the Ministry of the Interior.
Many trapped residents fled to their rooftops to escape the rising waters.
"We're going to have to use aircraft to evacuate them as we can't reach them by boat given the force of the water," Aude perfect Alain Thirion told the Evening Standard.
The flood is said to be the worst in over a century. Philippe tweeted that the last time the area experienced a flood that bad was in 1891.
The dangerous floodwaters ripped up streets and damaged buildings. Authorities in Carcassonne ordered bridges to be closed in the area because the Aude River was continuing to rise.
"There's water everywhere in the house. Everything is flooded," Helene Segura, who lives in Villegailhenc, told the AFP. "When I look out the window, I can only see water and mud everywhere. It's sad when you're 70 years old like me and you need to redo your house."
One street in Trebes turned purple after a nearby warehouse damaged in the flood started to leak wine.
Water levels are expected to continue to rise on Monday. Schools in the area were closed and residents were urged to remain indoors.
Philippe, who arrived in Aude on Monday, said in a tweet that more than 700 firefighters and seven helicopters have been dispatched to the area to help with rescue operations.
"I have come to express my sympathy and support for the families of the victims and for all those who have seen their lives switch today or tonight," he posted.