Trump pledges to 'get to the bottom of' Khashoggi disappearance as lawmakers pledge action
Comments
By Lauren Egan and Marianna Sotomayor with NBC News Politics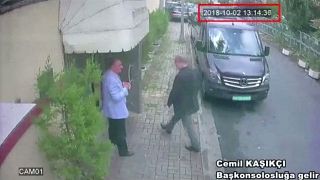 President Trump said Wednesday that the U.S. would "get to the bottom of" the mystery surrounding the disappearance of Saudi journalist Jamal Khashoggi, as some Hill lawmakers pointed fingers at the Saudi government and vowed congressional action.
Khashoggi was last seen visiting the Saudi consulate in Istanbul a week ago. Turkish officials believe the journalist, a critic of Saudi Arabia's government, was killed during that visit.
"It's a very sad situation. It's a very bad situation. And we want to get to the bottom of it," Trump told reporters in the Oval Office.
Asked if the U.S. would hold the Saudi government responsible for Khashoggi's fate, Trump said he would first "have to find out who did it." He said he "would rather not say" whether he had spoken to the Saudis about the situation, though he added that "the answer is yes."
Trump's comments came as several Hill lawmakers took a tough line on the disappearance.
Sen. Lindsey Graham, R-S.C. warned of "hell to pay" if Khashoggi had been murdered by the Saudi government, adding that "contempt will be met with contempt."
Senate Foreign Relations Committee chairman Bob Corker, R-Tenn., told NBC News that he had spoken with the Saudi ambassador and that it "was not a great conversation," describing the Saudi relationship with Congress as "probably the lowest point it's been since I've been here.... an all-time low." He added that he and Sen. Bob Menendez, D-N.J., planned to unveil bipartisan action Wednesday that would not require presidential approval or formal legislation.
The White House confirmed Wednesday that national security adviser John Bolton and White House senior adviser Jared Kushner — who, like his father-in-law President Trump, reportedly has a close relationshipwith Saudi Crown Prince Mohammed Bin Salman — had spoken with the Saudi leader about Khashoggi, as had secretary of state Mike Pompeo.
"In both calls, they asked for more details and for the Saudi government to be transparent in the investigation process," White House press secretary Sarah Sanders said in a statement. "We will continue to monitor this situation and provide updates as available."