Kanye unfiltered: Rapper talks mental illness, 'the universe,' Adidas in Trump meeting
Comments
By Adam Edelman with NBC News Politics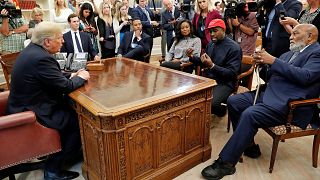 Copyright

Kevin Lamarque Reuters

-
Rapper Kanye West, in an Oval Office meeting Thursday with President Donald Trump, delivered a rambling speech about his mental health, his family, the universe, and his fondness for the president.
Sporting a red "Make America Great Again" cap, West said, "They try to scare me into not wearing this hat."
"This hat gives me power in a way, he said, later comparing it to a "Superman cape."
West, who was at the White House for a lunch meeting on criminal justice, gang violence prevention and other topics, gave extended remarks that lasted nearly 10 minutes, in front of rolling cameras and a trove of reporters.
He was seated alongside former NFL star Jim Brown, who was also there to discuss prison reform.
West spoke of his family, nothing that "my dad and my mom separated so I did not have a lot of male energy in my home and also I married into a family where, you know, there's not a lot of male energy. It's beautiful though."
He also disclosed that he had been diagnosed with bipolar disorder, but that he felt it was a "misdiagnosis" and that he was simply sleep-deprived.
Following the statement by West, Trump said, "I tell you what, that was pretty impressive."
"That was quite something," Trump said.
West then said, "It was from the soul. I just channeled it."
West has repeatedly expressed support for Trump during his presidency, drawing backlash as a result. West has said that he didn't vote in 2016, but if he had, he would have voted for Trump,and he met with Trump during his presidential transition.
Last month, West sported a "Make America Great Again" hat as he delivered an off-air politically themed rant to an uncomfortable audience after the taping of the Sept. 29 season premiere of "Saturday Night Live," which airs on NBC.
During the speech, West defended Trump and claimed to be his "real" self, boasting that he had not taken what many presumed to be his psychiatric medication.
In May, Trump met with West's wife, Kim Kardashian West,about criminal sentencing reform. During the meeting, Kardashian West pushed Trump to commute the sentence of Alice Marie Johnson, a first-time offender who was sentenced to life in prison in Tennessee in 1996 for her involvement in a drug conspiracy. The president commuted her sentence in June.