Why this year's boiling summer is good news for English sparkling wine
Comments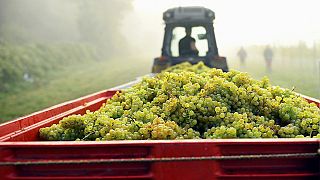 While Britain's scorching summer left some concerned about global warming, England's sparkling wine industry has seen a bumper harvest.
Boiling temperatures — the joint-hottest on record — have now subsided but leave behind the promise of what could turn out to be the finest ever vintage of English fizz.
Even bouts of drizzle in August couldn't dampen the promise of a ripe yield, coming just in time to help swell the bunches of grapes, meaning the harvest was not only large but also early.
"The conditions have been, frankly, perfect," said Mark Harvey, managing director of the wines business at Chapel Down.
"We are seeing huge demand for the limited supply that we're able to deliver to the market, so the need to bolster stocks is urgent. To have a harvest of the scale that we're having this year is just the best."
At his winery in Kent, the harvest has been around 60% bigger than last year's.
England's wine industry accounts for around only about 2% of all the wine bought in Britain, but this figure could be set to increase thanks to this year's haul on top of a diminishing demand for European bottles of bubbly.
Its neighbours on the continent might be better-known for their produce but trade data from Britain's customs service shows imports of champagne into Britain have fallen to a 17-year low.
The decrease in demand for the fizzy stuff across the water can be attributed to the pound's post-Brexit fall against the euro, according to Harvey.
"Champagne prices have crept up because of the weakness of the pound. Does that make it a more attractive place to be selling English sparkling wine? Undoubtedly," he said.
However, there's good news for English sparkling wine fans — the problem posed in previous years when supply struggled to meet demand has all but been resolved by this summer's ideal conditions.