Ships collide near Corsica causing major fuel spill
Comments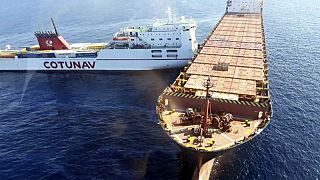 Officials are working to clean up a fuel spill stretching some four kilometres in the Mediterranean Sea, after two cargo ships collided near the French island of Corsica.
The collision between the Tunisia-registered Ulysse and Cyprus' CLS Virginia occurred at around 7.30am on Sunday, some 28 kilometres off the northern tip of the island.
No one was injured in the crash, but it smashed a hole several metres long in the hull of one of the vessels, causing the spill, according to a statement from the regional French maritime authority.
The collision left a trail of pollution four kilometres long and several hundred metres wide, it added.
French Ecology Minister François de Rugy said on Twitter that France and Italy had deployed officials to clean the spill and extricate the two ships.
The cleanup work will continue throughout Monday, as experts decide how to safely separate the ships, the maritime authority statement said.