First attempts to free two ships that collided near Corsica fail
Comments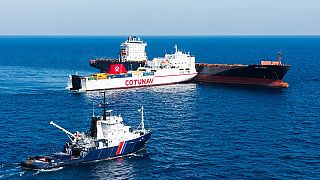 -
Copyright

Prefecture Martime de la Mediterranee
The first attempts to disengage two ships that collided in the Mediterranean Sea on Sunday causing a fuel spill stretching 25 kilometres have failed.
More experts, including divers, were sent to the scene of the collision near the French island of Corsica on Wednesday, to "evaluate the impact area" and inform future attempts to separate the two ships.
"The idea is to avoid worsening the situation," a spokesman for the French regional maritime authority told Euronews, highlighting that the "less than optimal weather" is hampering work.
The collision between the Tunisia-registered Ulysse ad Cyprus' CLS Virginia occurred at around 7.30am on Sunday, some 28 kilometres off the northern tip of the island.
No one was injured in the crash, but it smashed a hole several metres long in the hull of one of the vessels, causing the spill, according to a previous statement from French authorities.
By Tuesday, the trail of pollution was spread across 25 km in five discontinuous stretches and seven Franco-Italian ships had been deployed to deal with the pollution.
An image captured by the European Space Agency's Sentinel-1A satellite on Monday shows the extent of the damage.
French vice-admiral Charles-Henri du Ché told reporters that an estimated 200 m3 of fuel spilled into the sea on Sunday and that all but 40 cubic metres had been cleaned up by Wednesday afternoon.
He also added that an anti-pollution barrier will be deployed when further attempts are made to free the two ships to prevent a possible second spill.