Raw Politics: blunt climate change warning, Bulgarian journalist murder and Brexit optimism
Comments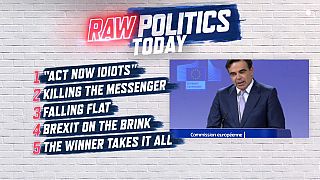 In Raw Politics on Monday October 8:
"Act now idiots" - the blunt message from activists and scientists to politicians over climate change.
Killing the messenger - a Bulgarian reporter becomes the third journalist murdered in Europe this year.
Falling flat - failure for a controversial referendum over same sex rights in Romania.
Brexit on the brink - is a deal REALLY 90% done? And what could still derail it?
And in the Raw Moment, the Winner Takes it All in an epic Abba pun battle