Eight-year-old girl dubbed 'Queen of Sweden' after pulling ancient sword from lake
Comments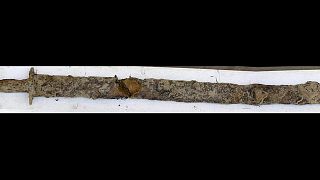 An eight-year-old girl has been dubbed queen after she pulled an ancient sword from a lake in Sweden earlier this summer.
The well-preserved sword is 85 centimetres in length and is believed to be between 1,000 and 1,500-years-old, which predates the Vikings. Researchers have been scouring the area around Lake Vidöstern, where the sword was discovered, in the hope of finding more artefacts and possible details on who the sword belonged to, and why it was left in the lake.
The discovery
While we may not know who owned the sword, we do know the girl who recently discovered it.
Eight-year-old Saga Vanecek was paddling in Lake Vidöstern earlier this summer when she stumbled on an object beneath the muddy bed.
"She picked up the object, lifted it high above her head and shouted as if she was Pippi Longstocking, DADDY! I FOUND A SWORD," Saga's father Andy Vanecek wrote in the following statement to Facebook.
Vanecek said the family later got in contact with a local archaeologist, who said they believed the sword to be around 1,500-years-old, dating back to the Iron Age.
Queen of Sweden
Amid the excitement over the discovery, many people on social media have also made the connection between Saga and the legendary British King Arthur and his sword, Excalibur.
According to legend, Arthur was presented with Excalibur by the Lady of the Lake, and it was returned to her (the lake) after his death. Anyone that holds Excalibur is said to be the rightful sovereign of Britain.
So, if this the case in British legend, what can Sweden offer? This is a question the following Twitter user asked, which received more than 2,000 likes.
Writer Michael J. Hollows was making reference to the iconic British comedy film, Monty Python and the Holy Grail, which features King Arthur as the main protagonist. In the movie, a local labourer takes issue with Arthur's legitimacy as monarch, saying: "Strange women lying in ponds distributing swords is no basis for a system of government. Supreme executive power derives from a mandate from the masses, not from some farcical aquatic ceremony."